About Mega Moolah Slot
Put on your hiking boots, grab your water bottle as Mega Moolah slot is taking you straight to the African savannah in an exciting and rewarding wild Safari. Mega Moolah video slot game is a walk on the wild side of the African savannah with Africa's magnificent animals.
This dazzling video slot game is wildly thrilling from the start to the end. Thanks to the game's symbols, you are bound to meet the King of the Jungle, and other renowned animals that roam the Savanah plains.
Keep your eyes peeled for the lion symbol – it's vicious every time it completes winning combinations. As for the mischievous monkey, he is going to complete some cheeky winning combinations. We urge you to continue reading more to discover what these two prominent animals in the African savannah have in store with you.
Mega Moolah Game Mechanics
Mega Moolah slot has 5 spinning reels, 25 paylines and rip-roaring adventure theme. As far as betting is concerned, the minimum bet that you can place is set at C$0.01, while the maximum amount is set at C$125 per spin. If you've ever played a video slot online, you'll realize how easy it is to play Microgaming's Mega Moolah as is follows some of the mechanics found in other video slot games.
You can access the game controls at the bottom section of the screen. Decreasing and increasing the bet amount can be done by clicking on the – and + symbols respectively. There's the option of activating all the 25 paylines by clicking on the 'Bet Max' button. Alternatively, you can choose the number of paylines you'd like to activate by clicking on the 'Select Lines' option.
Once you are satisfied with your selection, click on the spin button to set the reels in motion!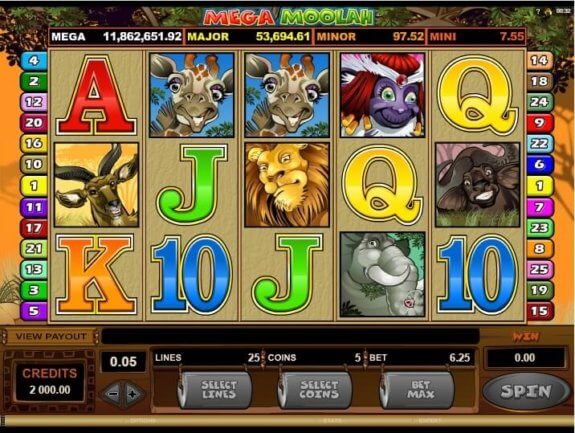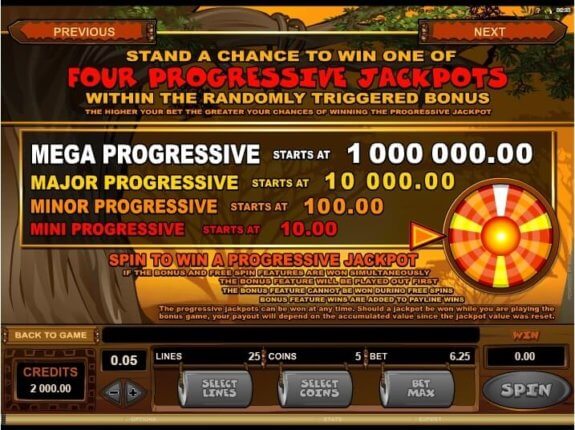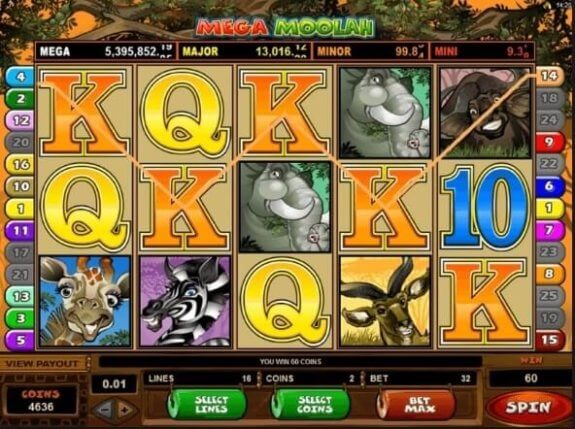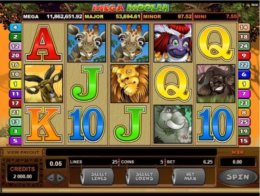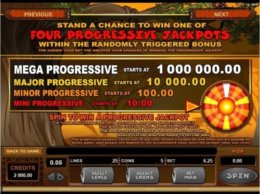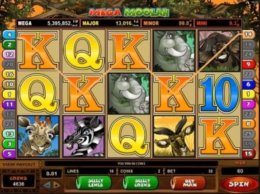 In-game Features – Wild, Scatters & Special Symbols
As we've already mentioned, you are bound to come across some mechanics found in other video slot games. Wild and Scatter symbols are good examples. The section below looks at these two important symbols in the game.
Lion is the King: Get Wild
!
You've read it right! The king of the African Savanah is used as the wild symbol in this video slot game. It's him that you should keep your eyes glued on. As the king of the African Savanah, he has all the power to substitute for the regular symbols to form winning combinations plus subjecting your bet to a 2× multiplier.
It gets better because if you are lucky enough to land five lion symbols on any active payline, then you'll be rewarded with a 15,000× multiplier on your bet. This will translate to an astonishing C$225,000, which you can cash out whenever you want to!
The Scattering Monkey Will Trigger Extra Spins
One thing that we liked about Mega Moolah slot is the fact that there are multiple ways to win yourself cash prizes if you are unlucky to win using the wild symbol. One of these ways is through the scattering monkey that acts as the game's scatter symbol.
As a scatter symbol, the monkey symbol will trigger the free spins game. This is achieved by landing at least three Monkey symbols anywhere on the reels. The maximum number of free spins that you can achieve during in-play is set at 15 free spins, which are also complimented with a 3× multiplier. It's during the free spins game that you can activate the life-changing Mega Moolah progressive jackpot.
Mega Moolah Jackpot
Mega Moolah slot is best known for its life-changing progressive jackpot. Unlike most of the other slots that only have one jackpot, Mega Moolah has an astonishing 4 jackpots, which increase with every bet placed.
The mini jackpot offers a minimum win of C$10

The minor jackpot offers a minimum win of C$100

The major jackpot offers a minimum win of C$10,000

The mega jackpot offers a minimum win of C$1,000,000 plus extra spins
The most recent winners for the Mega Moolah jackpot are enlisted below:
8,331,262.60, which was won at 24/06/2018

1,778,226.80, which was won at 20/04/2018

5,690,053.82, which was won at 19/04/2018
Conclusion
Mega Moolah slot has been around since 2006, but you'll be astonished to know that it's still one of all time popular slot game. Yes, we agree that the four tired progressive jackpot and rewarding free spins game are some of the reasons why it continues to dominate the online casino industry, but we must also add that its realistic imagery, sleek animations and captivating gameplay also play a great role in its popularity. Microgaming's Mega Moolah jackpot slot is playable on both mobile and PC!
Best Casinos for Mega Moolah

9.3/10
C$400
+50 No Deposit Spins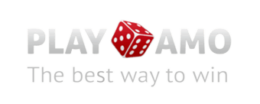 7.8/10
C$100
+150 Free Spins